My Mario Kart 64 time trial records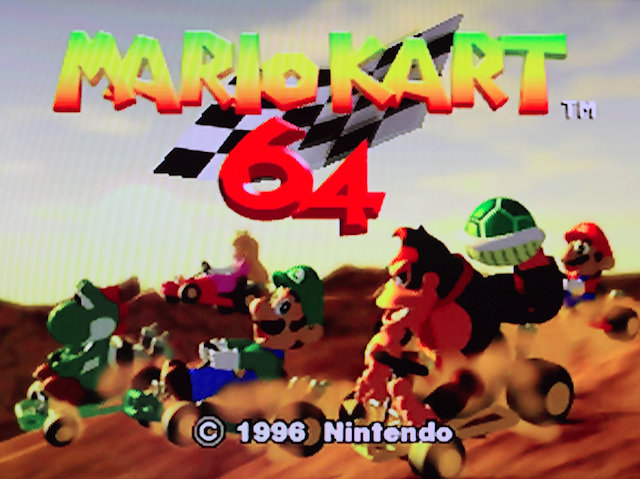 Course
Best times
Best lap time
Luigi Raceway
1:45.50 Yoshi
1:46.07 Yoshi
1:46.09 Yoshi
1:46.09 Yoshi
1:46.26 Yoshi
0:34.90 Yoshi
Moo Moo Farm
1:22.75 Yoshi
1:22.85 Yoshi
1:23.36 Yoshi
1:23.38 Yoshi
1:23.60 Yoshi
0:26.49 Yoshi
Koopa Troopa Beach
1:37.77 Yoshi
1:39.32 Toad
1:43.84 Yoshi
1:45.80 Toad
1:46.00 Toad
0:31.58 Yoshi
Kalimari Desert
1:57.72 Toad
1:57.97 Toad
1:58.46 Yoshi
1:58.56 Toad
1:59.01 Toad
0:37.88 Toad
Toad's Turnpike
2:42.33 Yoshi
2:43.42 Yoshi
2:43.53 Yoshi
2:43.61 Yoshi
2:43.64 Yoshi
0:53.73 Yoshi
Frappe Snowland
1:40.88 Yoshi
1:56.51 Yoshi
1:57.58 Yoshi
1:58.20 Yoshi
1:58.25 Yoshi
0:16.23 Toad
Choco Mountain
1:48.56 Yoshi
1:48.89 Yoshi
1:49.11 Yoshi
1:49.21 Yoshi
1:49.33 Yoshi
0:35.79 Yoshi
Mario Raceway
1:24.60 Yoshi
1:24.71 Yoshi
1:25.02 Yoshi
1:25.42 Yoshi
1:25.43 Yoshi
0:27.85 Yoshi
Wario Stadium
3:29.99 Yoshi
3:31.68 Yoshi
4:12.19 Yoshi
4:12.20 Yoshi
4:12.29 Toad
0:45.37 Yoshi
Sherbet Land
1:53.36 Yoshi
1:53.96 Yoshi
1:54.25 Yoshi
1:55.37 Toad
1:55.49 Yoshi
0:36.86 Yoshi
Royal Raceway
2:36.91 Yoshi
2:37.79 Yoshi
2:37.99 Yoshi
2:38.11 Yoshi
2:38.63 Yoshi
0:51.74 Yoshi
Bowser's Castle
2:06.86 Yoshi
2:07.44 Yoshi
2:07.60 Yoshi
2:08.31 Yoshi
2:08.71 Yoshi
0:41.35 Yoshi
D.K.'s Jungle Parkway
2:13.39 Yoshi
2:14.74 Yoshi
2:16.86 Yoshi
2:18.83 Yoshi
2:19.99 Yoshi
0:42.53 Yoshi
Yoshi Valley
1:58.66 Toad
1:59.77 Toad
2:00.27 Toad
2:00.42 Toad
2:00.44 Toad
0:39.35 Toad
Banshee Boardwalk
2:01.54 Toad
2:01.84 Yoshi
2:02.06 Yoshi
2:02.53 Yoshi
2:05.58 Yoshi
0:40.00 Yoshi
Rainbow Road
4:38.46 Yoshi
5:00.94 Yoshi
5:01.49 Toad
5:03.15 Toad
5:04.36 Toad
1:22.90 Toad
Notes
For these records, the time format is m:ss.ss, which means minutes, seconds, and centiseconds.

The huge time variations in Koopa Troopa Beach, Frappe Snowland, Wario Stadium, and Rainbow Road are caused by an inconsistent use of shortcuts.

The picture is official second title screen in the game, not made by Nayuki.